I was planning on adding a picture post soon, and the other evening, The Hubs confirmed my suspicions that a blog without pictures is boring. :) Instead of putting away the folded laundry currently taking over our living room, I bring you pics!
My first food entry involved inspiration from
my brother's blog
- Banh mi, aka Vietnamese hoagies. To show you a bit of the construction, I took some pictures. Also, a little later on, The Hubs is the photographer to be credited. He is wonderful. There I am, in the middle of making his dinner after 5 hours of commuting (2.5 hrs there, 2.5 hrs back), and he's happy to slow the process down to take some photos :)
Anyway, the construction of the sandwich. Delicious, delicious sandwich:
Sriracha Mayo
+ jalapenos for The Hubs (anybody know how to add a tilde in here?)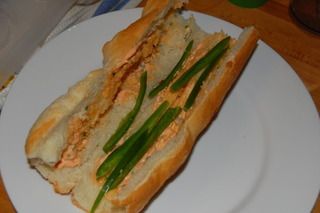 + meatballs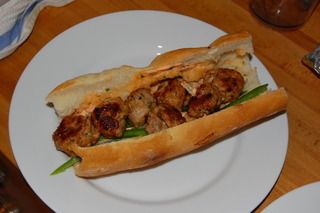 All together now...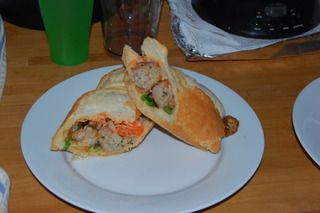 YUM!
And for the random pasta night, here goes nothing!
The whole stove:
Easiest sauce ever: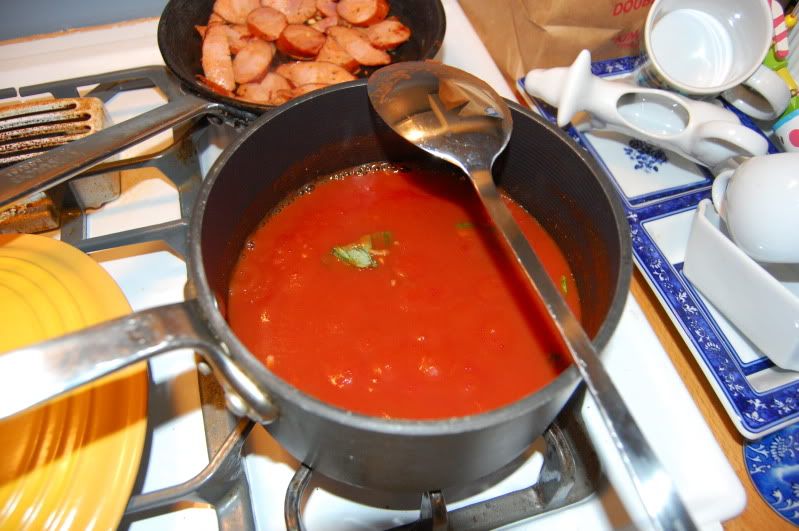 The finished product!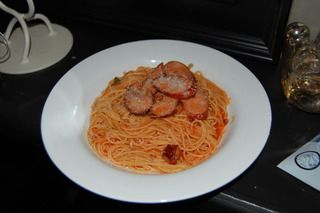 The other night, wanting to use the rest of the pork from the banh mi, I made it again, but this time, made the meat into patties which fit nicely onto the baguettes :) The mayo and the daikon/carrot pickle, having had a few days to blend their flavors, were even more flavorful this time, if that was even possible, and they were, once again, amazing. The Hubs took some pics of the whole process, so I'll share them with you now!
So I'm kind of lazy about chopping herbs and onions...
The Hubs's snack (I had a need to vacuum that night, and I didn't even get this started until after he got home! :( On the plus side, the downstairs is now nice and clean :D)
Patties on the stove (I added sesame seeds too)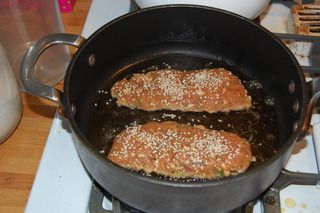 My helper that evening (she's not really glaring, just reacting to the pre-flash flash):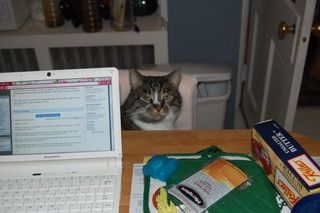 The finished product!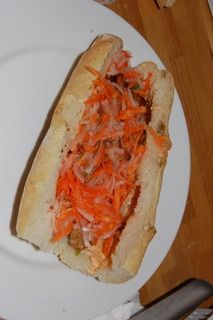 OM nom nom nom.
Okay, we're all caught up on pics! Stay tuned for the next episode: Be Careful What You Wish For (be careful about that for which you wish? Don't judge me for my grammar, please :D)